The Hungarian Grand Prix is held at the Hungaroring on the outskirts of Budapest every August. The Hungarian Grand Prix dates back to 1936 when it was staged in a public park called Nepliget (People's Park).
Situated 12 miles north east of the City Centre next to the M3 motorway leading to Debrecen, Hungary's second largest city. The Hungaroring is approximately 65 miles from the eastern shore of Lake Balaton. The M7 motorway connects Budapest with the southern shore of Lake Balaton, with a car journey time of less than two hours and with regular train services between Lake Balaton and Budapest, travelling to the Hungarian Grand Prix is relatively easy.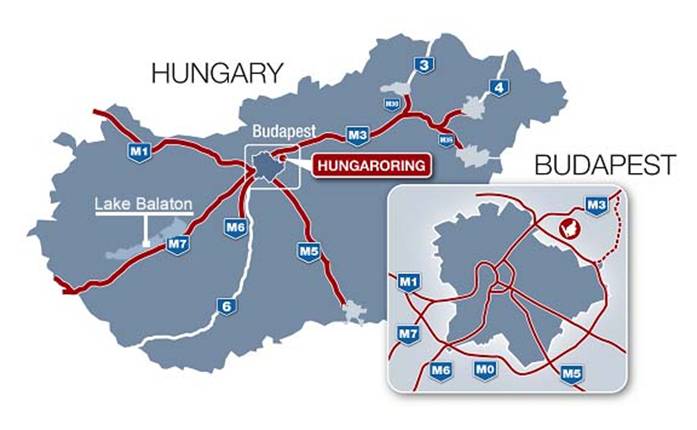 The Recent History
Bernie Ecclestone, leader of Formula 1 mentioned on the Monte Carlo Grand Prix 1983 to his friend Tamás Rohonyi(who is of Hungarian origin) that one event of the championship should be held behind the "iron curtain". In the summer of 1983 a telex arrived at the Ministry of Foreign Affairs indicating Mr. Ecclestone's suggestion.
The first big step was followed by smaller ones in the next two and a half years. The long period of preparation and organisation was fruitful, as on September 10th 1985 in London the contract for the first five years of the Hungarian Grand Prix was signed.
Small steps were followed by work at a pace and after eight months the circuit, with one of the most beautiful locations of the Championship, was completed and the first race was held on August 10th 1986.
The idea of Bernie Ecclestone's to take Formula One after 36 years into a socialist country seemed to be insanity. The past 21 years have justified his decision as Hungaroring has kept its place amongst the most prestigious race locations all over the world.
1.7 million spectators watched the 2006 Formula One Word Championship on site and six hundred million people followed the races on television. This was the year Jenson Button won his very first Grand Prix race on the 6th August 2006 – the 13th race of the 2006 season.
We recommend a range of accommodation options in Hungary including 12 hotels in Budapest, ranging from comfortable budget tourist hotels to superior standard –  two of the hotels have excellent Thermal Spa and Wellness facilities should you decide to treat yourselves to some well earned pampering.
If you enjoy your time in Hungary why not consider owning a property there – Hungary is known as the hidden jewel of Europe and an ideal base for you to enjoy both Formula 1 and family holidays
Many properties around the Lake Balaton area, an area of outstanding beauty, have outbuildings which can be easily renovated to provide guest accommodation. The potential to earn lucrative rental income from your property, especially during Formula 1 week when prices become inflated, should not be underestimated
Positioned in the centre of Europe, Hungary is an ideal base to visit neighbouring countries such as Austria, Slovenia, Croatia, Slovakia and Serbia. We would be more than happy to help you find a property which meets your requirements. This way you can enjoy Formula 1 and at the same time watch your property investment grow in value