Hungary joined the EU in 2004, is a member of NATO but does not have the Euro currency but along with another 25 countries is a member of Schengen. The currency is the Forint and as of  February 2012 there are approx 350 Forints to 1 British pound.
Hungary is in central Europe, bordered by 7 countries, is land locked with no coastline. Hungary does have the largest lake in central Europe at 229 sq miles – Lake Balaton is known as the Hungarian Sea and has numerous holiday resorts along it's 147 mile shoreline making it ideal for families in the summer months. The lake is almost 50 miles long and 8 miles across at it's widest point.
Approximately 10 million people live in Hungary with almost 2 million living in the capital Budapest
Budapest airport to Lake Balaton is 59 miles and takes 1 hour by car.
Vienna airport to Lake Balaton is 115 miles and a 2 hour car journey.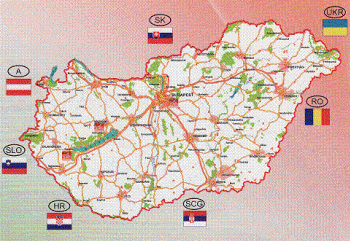 A=Austria, SK =Slovakia, SLO =Slovenia, RO =Romaniaall of which are Eu member states
HR =Croatia,  SCG =Serbiahave applied to join the Eu. UKR =Ukraine
The Hungarian people are very friendly and welcoming towards visitors.
Video – Sights and Sounds of Hungary