There's a lot special about Budapest. It is a beautiful city, with a lot to see and do that you won't find anywhere else. There are regular inexpensive tourist buses which circumnavigate the city –  you hop on and off at the various sites across the city. The underground is easy use.
Home to almost 2 million people the city is known as the "Parisof the East". Public transport is inexpensive and plentiful.
State Opera House a beautiful neo Renaissance building with an interior to match
StatueParkhas a variety of old communist statues taken from around the city centre soon after the fall of communism in 1989
ParliamentBuildinghas 691 rooms and 12.5 miles of hallway, and tours are given in eight languages. It was inspired by thePalaceofWestminster
The House of Terror details the torrid past ofHungaryand the acts of torture by the secret police
Szechenyi Baths is a popular destination for both tourists and locals. Comprising nine baths this is one of theEurope's largest spa centres
MargaretIslandis a popular park in the middle of the city
Hero's Square was built in 1896, to commemorate the 1,000 anniversary of the arrival of Hungarians in Hungary. Before then, it was inhabited by Slavs, like every country around Hungary. It's full of massive statues and carvings ofHungary's medieval national heroes
The Castle is on a hill overlooking theDanube, and the view of the city from its walls and towers is breathtaking.
The Jewish District boasts the largest synagogue inEurope, museums and a good selection of cafes
Ecseri Flea Market is a shopping experience not to be missed
The Palace of Arts situated on the banks of theDanubehosts many cultural programmes throughout the year
12. The Bridges over theDanubeRiverlink the two halves ofBudapest– Buda andPest. There are six bridges across the river. The Chain Bridge is many people's favourite; theElizabethBridgeandLibertyBridgeare popular too
13.Liszt Squareboasts a wide selection of café – bars in a busy thoroughfare
House of Hungarian Art Nouveau is a must see for those interested in understanding the influence of Hungarian art.
Another option to see the tourist sites is to take the underground which is easy to use.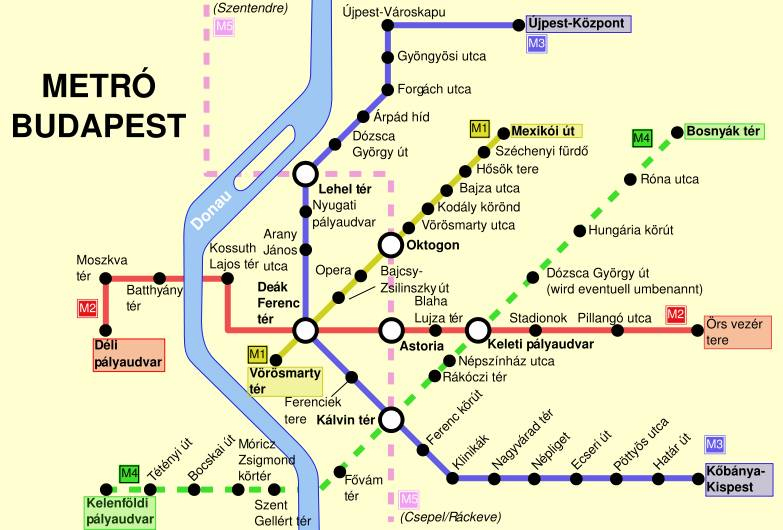 As of Feb 2012 single journeys on the Metro ( underground ) cost 320 Huf – less than £1 but please make sure to validate your ticket before commencing your journey
Multiple ticket options are also available