Water Skiing and Jet Skiing
We recommend two areas to visit in Hungary.
If you are a beginner then Lake Balaton has several pully systems in use – an overhead cable which pulls the skier along.
Facilities can be found at Siofok, Balatonfured and Vonyarcvashegy near to Keszthely.
The River Danube at Dunafoldvar approx 45 miles from Lake Balaton has facilities for water and jey skiing.
Sailing and Wind Surfing
Charter and Tuition:
Situated on the Tihany peninsular on the north shore and directly on Lake Balaton, their aim is to provide a world class sailing experience in an area of outstanding beauty.
The Balaton 25 is a 25ft yacht specifically designed for sailing on Lake Balaton. The Hanse 291 and the Feeling 356 yachts are also available.
Fun for all ages and all stages of fitness, the teaching facilities are second to none. With many years of experience the teachers will have you sailing or windsurfing in very little time, you will also be trained to an internationally recognised standard.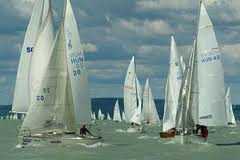 Various sizes of sails are available for men, women and children. Windsurfing is available from the beginning of May to the end of October.
Course durations are Monday to Friday, 3 hours daily, mornings or afternoons.
Children can get a junior windsurfing licence, and special children's classes are available for 8-12 year olds.
Lake Balaton is restricted to sailing windsurfing, fishing and swimming. This ensures pollution from speed boats and jet skiis do not spoil the beautiful and clean lake waters of Balaton. Maximum sail size on Lake Balaton is 10 sq m with a maximum boat length of 6 metres.
" In a weeks sailing on Lake Balaton I saw no manmade pollution – not an oil slick, not a beer can, not a polythene bag. It offers outstanding value for money in terms of a sailing experience, gastronomy and culture. "
Angus Richardson – Practical Boat Owner Magazine
With regular low cost flights from across the UK to Budapest the eastern shore of Lake Balaton is approximately 60 minutes car journey from Budapest airport using the M7 motorway. The western shore of Lake Balaton is a 30 minute car journey from the Croatian border and a further 2 hour journey to the Adriatic coast.