One of the Most Popular Christmas Fairs in Europe
On the 20th November Vörösmarty Square in the centre ofBudapest – affectionately known as theParis of the East, is transformed into a festive market place.
Cottage style wooden stalls, mulled wine, cinnamon and honey cookies are the order of the day creating a unique and very special seasonal atmosphere.
With over 100 exhibitors displaying hand-made products and gifts, exhibitions and other cultural and music programmes the Christmas market is an ideal place to identify unusual gifts, crafts, paintings and glass pieces
Your will power will be tested as you smell the delightful traditional Hungarian cuisine of sausages and meats along with the fresh bread "lángos" which is baked in the traditional "Töki" clay oven. For deserts you can sample the caramelised pastry horns and  a selection of strudels
Should all this be not enough, visitors of the square are continuously entertained by cavalcade of Hungarian folk music, folk dance, classical music, children's programmes and concerts. The organizers are preparing special surprises and accompanying events for the anniversary year, making this year's Christmas in Budapest a truly unforgettable experience.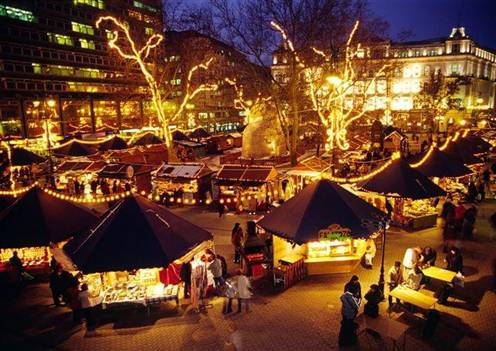 Between 21st and 23rd December a smallBethlehem is created with a crib and live animals
Every year around 600,00 visitors visit the Christmas market
Smaller Christmas markets can be found at Liszt Ferenc ter and at Nyugati ter