The shackles of communism were removed in the early 1990's and when it comes to shopping Hungary has been developed and transformed  beyond belief but at the same time still retained the traditional local shops – butchers, bakers, florist etc.
All the popular names can be seen – IKEA, Tesco, Lidl, C & A etc and certainly in theBudapest area modern shopping centres have been built. Several large German owned stores such as Metro ( Makro ), Obi, Praktiker, Brico, Baumax etc have established retail outlets around Hungary.
Tesco started to invest inHungary in 1994 and now has 205 stores ( 2010 )
Auchen stores stock just about everything and these can be found in the major cities of Budapest and Szekesfehervar close to Lake Balaton.
Electrical stores such as Media Markt stock a wide range of Hi-tech and white consumer goods
In the villages the smaller supermarkets chains remain – Penny market, CBA, ABC
Despite the massive  investment in retail space, prices remain in line with Hungarian wage levels ( approx £80 pw as of March 2012 )  and it is not uncommon to find the same item for sale in IKEA Hungary at half the price of the same item for sale in the UK.
In Budapest the main shopping street which has all the fashion brands is Vaci Utca which runs parallel with the River Danube ( 200m away ) on the Pest side of the city centre.  All the famous  International fashion brands have shops on this street.
In a recent shopping survey Budapest beat  Paris, Amsterdam & Milan when it came to shoppers' overall assessment of atmosphere, attractiveness, cleanliness and customer service.
Other places worth seeing  :-
Visit the Old Market Hall and check out the vibrant market life. Contrast this with the modern shopping mall at Westend which is next to the main train station at Nyugati Pu in central Budapest  ( M3 Metro line )
From the 20th November until the end of the year the annual Christmas market is held at  Vörösmarty Square in the centre of Budapest. The square is transformed into a festive market place.
Cottage style wooden stalls, mulled wine, cinnamon and honey cookies are the order of the day creating a unique and very special seasonal atmosphere.
With over 100 exhibitors displaying hand-made products and gifts, exhibitions and other cultural and music programmes the Christmas market is an ideal place to identify unusual gifts, crafts, paintings and glass pieces.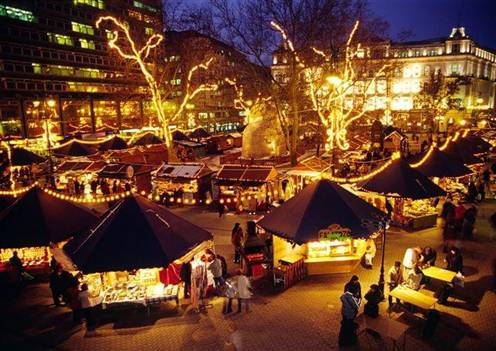 Should all this be not enough, visitors of the square are continuously entertained by cavalcade of Hungarian folk music, folk dance, classical music, children's programmes and concerts.